Why Food testing is important in India?
Why Food testing is important in India?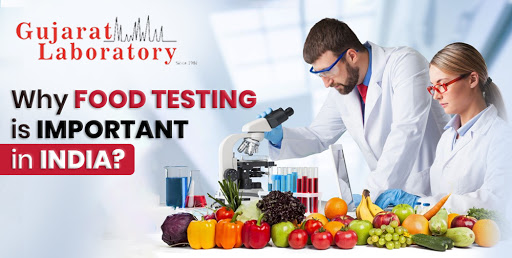 Though it may be the last process of the food manufacturing chain, food product testing is the most important step, because it determines the safety of the food for use. In India, the rules set by FSSAI are strictly monitored. Consumers stay away from food products that do not fulfill the FSSAI requirements. Food product testing is vitally necessary, to ensure that the food is free of physical, chemical, and biological hazards. Examples of potentially hazardous food contaminants include metals, e-Coli bacteria, salmonella, cleaning agents, additives, preservatives, pesticides, and more. Food product testing is the scientific analysis of food and its contents. It is done to provide information about various characteristics of food, including the structure, composition, and physicochemical properties. The reasons Why Food testing is important in India are:
To Test The Quality Of A Product: This is done to verify claims made by the manufacturer of the product on certain issues; for instance, the ingredients used.


Quality Control: This is done before, during, and after the manufacturing process to analyze the quality of the food ingredients and the finished product.


Food inspection and grading should be performed regularly to ensure food manufacturers meet the set laws and standards in India. Packaged food must carry the FSSAI label. This makes Research and development a necessary function for manufacturers to improve and maintain their food quality. This would ensure a healthy, supply of high-quality food at affordable prices. Manufacturers can also protect themselves from rumours and smears spread related to their food products. With adequate lab test reports they can get rid of all such material circulating over the internet and can win customer's trust.
How Food Testing in Labs is done?
Food product testing can be done using several methods, all of which are highly advanced, to provide accurate information about the nutritional value and safety of the food. There are dedicated facilities where manufacturers and consumers both can test the sample of the food they are consuming or producing. Gujarat laboratory is the leading facility for food product testing in India. The most common methods of food testing in labs are:
Analytical Chemistry Testing: Involves chemically separating and analyzing for the different components of the food product, including PH, additives, preservatives, colours, contaminants, and so on.


Sensory Testing: This is the most basic method of testing, which involves using the human senses: sight, taste, touch, sound, and smell.


Nutrition Analysis: Involves finding out the nutrition composition of food; the information gathered is used on the product's label.


Microbiology Testing: Involves analyzing for microorganisms that contaminate food. It is usually done on the raw materials, ingredients, and the final product.


All these and more methods are available in Gujarat Laboratory. With our experiences from the past, we can say that these tests reveal shocking results at times. Manufactures were able to discover where in supply chain their material is getting distorted and consumers were able to check the purity of their food. The impurities and increasing use of harmful chemicals and colours are the major reason Why Food testing is important in India? Our state of art infrastructure and lab technicians makes us the top choice for such work. If you wish to have food testing in labs, contact us today.